As I write this post, it is August 15, 2018.
Today is the Feast of the Assumption of the Blessed Mother. Today was a Holy Day of Obligation, and I went to the 8 AM Mass, just minutes after reading the report from the Pennsylvania Grand Jury and the reactions of people, Catholic and not, from across the globe.
This report, which covers the heinous crimes by the clergy, (of which an estimated 90% were from prior to the 1990's) comes on the tail of the scandals in Argentina and Australia. A bit more personal to me, an investigation has also been launched against the major seminary in my own diocese, after an extremely damning piece on the conduct of some who have attended, was published by an ex-seminarian whom was one of my first JSO Instagram followers.
Considering everything that has been going on, and all the attention the Church has been getting from the major news media, it is safe to say that I, among many others, are beside ourselves, with a storm of incredibly difficult emotions.
I feel sick about the children who have been failed, their innocence destroyed and lost. I am angry about the coverups done to save face. I feel powerless to help clean up any of this mess and promote healing. I feel betrayed because the Church that I have fought for and defended for so long, is now being smeared by the hundreds of men who were unfaithful to the vows that they made. This goes beyond the breaking of promises though. This is pure evil, and it is unfathomable to me that this is the current face of the Catholic Church, especially since we know that our teachings hold us to the highest of standards when it comes to sexual conduct.
I am sad because for so many people I know who are not Catholic, this is only adding fuel to their fire. Whether it be outright hatred towards Catholicism in general, lukewarmness, or the deterrent of a faith journey that has barely begun, the damage has been done. I am sad for the practicing Catholics who are struggling with their faith right now. I am absolutely heartbroken for the many good, faithful seminarians, priests, and bishops (the vast majority of the clergy, actually,) who are being regarded with such hate and suspicion right now, trying to shepherd their parishes while also coping with their own feelings of grief, disgust, and betrayal.
The important thing to remember, and the driving reason behind this post, is that the clergy is not the end-all-be-all of the Church.
Good clergy members are guides for us, support for us in our journey as imitators of Christ. But they are not Christ Himself. It is Him, and Him alone, that we look to and follow. The Church does not contain any less Truth because of the unfaithful. The Sacraments are not any less valid. The Mass is not any less sacred. Lastly, we should not let this devastation damage our own relationship with God, nor our involvement in the Church.
I think this idea was best depicted while I was at church this morning. For an 8 AM Mass, on a Wednesday morning, the pews were surprisingly full. People of all ages attended. The Creed was professed just as loudly as usual. One voice in particular stood out: the voice of a child, no older than 6, proudly reciting the words louder than anyone else, mispronunciations and all.
I watched as my fellow parishioners exchanged glances with each other, no doubt taking note of the irony that this child, who, unknown to him, had been failed by the actions of unfaithful clergy, was displaying such pride in something that there is no way he could possibly understand at such a young age. But I watched it plant hope in weary hearts regardless.
Some are already speculating that the results of the jury are most likely just the tip of the iceberg. They say that more scandals will continue to unfold.
Unfortunately this is probably true, although it is important that they are all made public and are exposed. I think it is also worth noting that many of these abusers are thought to be part of a larger scheme; non-believers who entered the Church with the intention of destroying Its' credibility from the inside out. This theory comes from a woman who testified as much in front of Congress years ago. (Google 'Bella Dodd'.) Others though are clearly pedophiles, or living a homosexual lifestyle. (I want to make it very clear though, that pedophilia and homosexuality DO NOT go hand in hand with each other, and are completely separate from each other.)
Now, we are finally uncovering the damage done. The Church will suffer and the numbers of the faithful will continue to dwindle. No matter what happens though, I am staying in the Church because I believe in Its' teachings, and I am praying that you will too. I am praying for the victims of this abuse. I am praying for my fellow faithful laymen. I am praying for the faithful clergy, who have given their lives in vocation to serve Christ and His people, many of whom I am so blessed to have in my life, including my own pastor. I am praying for those departed from the Church because of these scandals, past, present, and future. As hard as it is, I am praying for the men who have caused all of this wreckage too, with the evil they have done. I hope those still alive will repent, hold themselves accountable, and justice will be served.
Most of all, I will pray that the innocent bishops stop giving us empty statements, and instead work to deep clean and restore the Church once again. To my friends and followers of other Christian denominations, I ask that you pray for us as well, as we call for action and attempt to heal in the coming days.
 "And so I say to you, you are Peter, and upon this rock I will build my church, and the gates of the netherworld shall not prevail against it." -Matthew 16:18 NABRE
Keep the faith.
~Alexis Grace
Back in December, as I was sitting in the Abbey Church one night, I wrote this poem titled "All That I Am". I was feeling an incredible sense of peace in that moment. Whenever I feel like I need to recenter my focus for my life, I read my poem to get myself back into that mindset and remember the most important purpose for my life.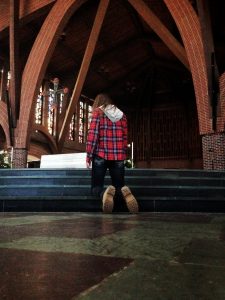 All That I Am
"In failing to confess Lord, I would only hide You from myself, not myself from You."
~St. Augustine
St. Augustine, one of the great Doctors of the Church, knows the meaning of his words above better than anyone. After 31 year of life, filled with sin and lacking God, he finally chose to confess his sins and he converted to Catholic-Christianity. One of his great works is "The Confessions of Saint Augustine", an autobiography written with philosophical/theological tones of musing, from which this quote comes from. In simple words, St. Augustine points out an important truth.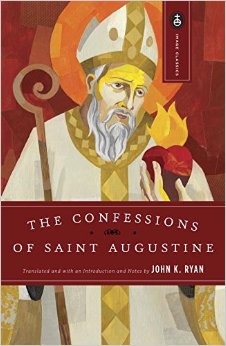 The ability to make a good confession is a Read the rest of this entry »
Every Christian hopes for one thing when they die: life eternal with God. We all want God to look at us, describe the ways in which we pleased Him, and say to us, "Well done, my good and faithful servant."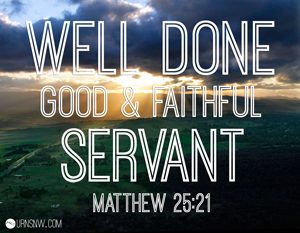 I wrote this poem as a reflection of just that. Read the rest of this entry »
Last spring, I got into a conversation with a friend of mine about my favorite places to go relax on campus.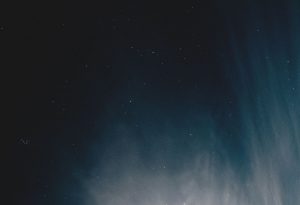 I told him that I loved to climb up onto the roof of one of the dugouts on campus, and look at the stars. I explained that it was dark on that particular field, away from campus lights and all the people. It was quiet and you could hear trees whisper. He then asked me a question that made me feel a little vulnerable: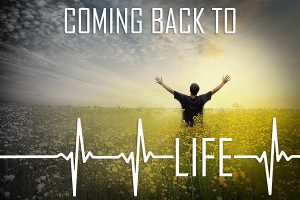 "You knew, but I did not, what the outcome would be. But my madness with myself was part of the process of recovering health, and in the agony of death I was coming to life. I was aware how ill I was, unaware how well I was soon to be."
~St. Augustine
Sometimes when we are going through a tough time, it's really easy to let the feeling consume us. We convince ourselves that we were so much happier before and that we will never be the same person again. We unknowingly wreak havoc upon ourselves mentally and emotionally, and sometimes it affects us Read the rest of this entry »
"Crown Him the Lord of life."
I came across this phrase in one of my devotional books, shortly after Easter. The obvious meaning of the phrase "Lord of life", was shown in the line that followed, which said, "Who triumphed o'er the grave, and rose victorious in the strife, for those He came to save."
Clearly, that's the meaning that was supposed to be taken from the phrase, but I took another interpretation from Read the rest of this entry »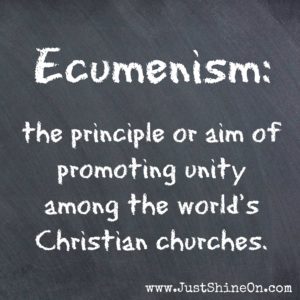 Ecumenical dialogue has always been important to me, almost as important as learning Catholic apologetics is.
I want to know everything about my faith, as well as I can. But I also want to be able to use that information I know, to participate in ecumenical discussion with anyone I meet. The more I have learned, the more I have been able to explain and understand, and have done so over the years.
I remember my first attempt at ecumenism, four years ago now, was very unforeseen, forced even.
In fact, it was somewhat of a hostile environment for me. I had posted a tweet about Read the rest of this entry »
"One day you are born, no one asked you if you wanted to live.

But now you are living. Sometimes it's nice for you. Sometimes instead you are sad. There are many things you don't understand. You are alive, but why are you alive? With your hands you must help reorder the world. With your mind you must learn to distinguish good and evil. With your heart you must love people, and help them when you can. There are many tasks that await you. They await our hands, our mind, and our heart."
~Blessed Chiara Luce Badano
I was recently scrolling through the notes app on my iPod, and found this quote that I copied down in 2014. I liked the quote because it's a basic, Read the rest of this entry »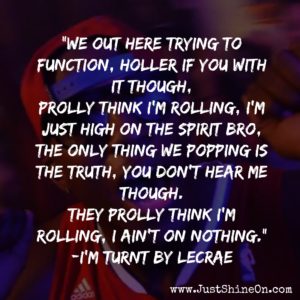 In my last post, I talked about Mike Posner's song 'I Took A Pill In Ibiza' and why I think it's a good song. While it does seem to warn against drugs, the message could always be a little more explicit. While my friends can attest to the fact that I always turn up that song when it comes on the radio, it's not my favorite anti-drug song. That honor goes to Read the rest of this entry »