Posts Tagged 'March-For-Life'
GUEST POST
The March for Life is an important Pro-Life event that happens in Washington D.C. and other places around the United States each January. I had the awesome opportunity to interview triplet sisters who went on the March this year, and then got stranded on the highway during the blizzard that stalled many Marchers' return home. They share their experience below. I hope you enjoy their witness story!
*****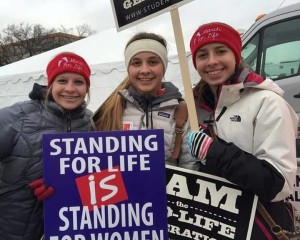 (Left to right: Alexis, Kristen, and Lauren.)
Read the rest of this entry »

The Pro-Life movement is so important.
But as I've kept up to date with the latest news about the March For Life via social media, I've become increasingly frustrated by the society that we live in. So many of my friends have participated in the march down in D.C., and I am so proud of all of them! But what frustrates me is how mainstream media can't seem to provide coverage of anything more important than the proper PSI for a football. Seriously…there's been next to no coverage of the March for Life in D.C. or any of the other Pro-Life protests going on across the country right now. Apparently numbers less than 12.5-13.5 are more infuriating than the numbers I found just by conducting a simple Google search.
So, in honor of the 42nd 'anniversary' of the Roe vs. Wade decision, let me share Read the rest of this entry »