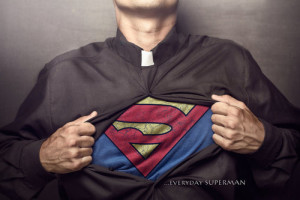 A couple weekends ago, I went on my last high school retreat with my youth group. My youth minister and the CORE members did an awesome job running it, but I think one of my favorite parts (besides Adoration, which is always a great experience,) was the witness talk that was given. Our witness speaker happened to be a seminarian, which I thought was awesome! If you've been following my blog from the beginning, or if you know me personally, then you probably know I have a lot of admiration and respect for priests, and the vocation to religious life in general. So you can imagine how excited I was about this witness talk! The seminarian gave a really great testimony about his call to the priesthood, and the different things that happened throughout his life, that he now realized was God trying to speak to him.
The discussion guided by my CORE member, again led me to the conclusion that I often come to when I think about what the priesthood means to me:
Priests are like real-life, tangible superheroes.
Now, in this post, I am focusing on priests who are Roman Catholic, not because pastors and ministers of other Christian denominations can't be superheroes too, but because being a Roman Catholic myself, I know more about and feel most comfortable discussing priests. While Catholic priests and pastors/ministers of other denominations do indeed serve many of the same purposes and display many of the same traits, there are a few things that I feel make Catholic priests extra special.
Here's the truth: the priesthood is a tough life.
For example, by taking a vow of celibacy, they give up the chance of having a wife and kids; the chance of having a family of their own.
In many cases, that's a huge sacrifice that someone discerning priesthood struggles to offer up. The seminarian who spoke at my retreat expressed this, and I have heard others who gave online testimonies say the same thing. Yet, they all came to realize that the plan God had for them personally, was a better plan than the one they had for themselves. They 'let go and let God', and He didn't disappoint them. Ultimately, following God's call for your life brings indescribable contentment, and the same is true for all of us, no matter what the call is.
In addition to the above, the life of a priest is not very stable. After their initial assignment, whether at a parish or working in a non-parish position within a diocese, a priest is often reassigned to another parish or position after a certain amount of years. Put yourself in their shoes: you're all settled in and loving where you are, and then you get a letter from the bishop. He wants to move you to another parish, or perhaps he wants you to work as a chaplain in a prison, or as a missionary in a foreign country. Maybe he wants you to work in some position that means long days in an office, with lots of correspondence across various platforms. Perhaps, there's been an opening for a new campus minster at a school or college. In any case, you have to leave a place where you have built many connections with many people, a place where you were comfortable, and go into a new unknown. This process is often repeated many times throughout their service as a priest. Salaries vary, depending on the position, but none of them make a lot of money. Life as a priest is meant to place an emphasis on things of the Lord, rather than things of this world.
Those aren't the only things that make the priesthood a tough life. There are the high expectations people have of them, for their own benefit, the pressure of having to be careful not to express personal opinions in sermons, translating Scripture for their flock, and countless people tend to bring all of their burdens and struggles to priests, with expectations of some kind of immediate interpretation of God's insight. Somehow, they are able to manage all of these things, and many more, through the grace of God. Still, many say that being a priest is their biggest joy in life.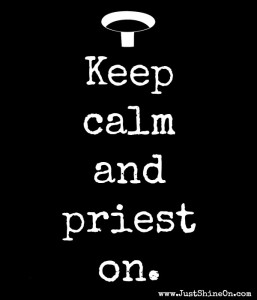 I know that in my own spiritual journey, I have met several priests who, even though they are no longer in my life, left an impression and taught me lessons I won't forget. Currently, I am blessed with three priests that are all big parts of my life. Each of them have been tremendous examples to me, of how to live a life for Christ, and how to live like Him. Each has his own special, God-given gift that is unique and helps them accomplish their mission, gifts that only make me appreciate them all the more because I can see the difference it makes in the lives of other people, as well as my own. Priests point us closer to Jesus' own heart, and that is no small feat. They succeed because they are doing the will of God.
 #HurrahForPriests
Yes, that's a thing! A couple years ago, I created that hashtag on Twitter, and I have slowly been adding to it. I wanted to invite YOU to add your own reasons why you appreciate the priests in your life, by also using this hashtag. Or, if you see a cool news story about a priest, add it to the collection! Please make sure you do it on TWITTER, and use #HurrahForPriests (use 'for', not the number 4,) because I will be checking for your tweets and sharing them on Just Shine On's social media platforms. If you don't have a Twitter, feel free to shoot me an email by clicking on the sunshine-shaped 'mail' button in the top right corner of my blog, and I will post it for you. 🙂
If you get nothing else from this post, what I really want you to hear, is that behind that Roman collar, priests are real *people*, and pretty cool ones in my opinion.
Each one is a unique person, with their own special qualities, gifts, and personalities. They have likes and dislikes, hobbies, favorite foods, and other relateable interests. They are humans, who are trying to find their way in a world that they don't belong in, just like us. Humans who, like us, are seeking the will of God. Hang out with them and your perspective about them may change from just a priest, to a friend, a mentor, a father-figure or a brother. Make an effort to get know a priest, and it may even change your life.  Just like superheroes do.
~Alexis Grace
I would love for you to share your thoughts.