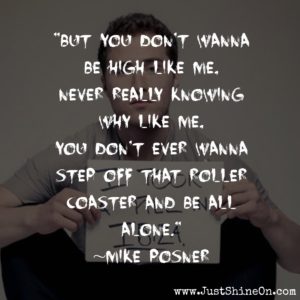 Almost a year ago, I wrote a blog post on today's music and the dangerous glorification of drugs (which you can read HERE). My music listening habits have shifted from "One Direction Radio" to "Life Of Dillon", which has a lot more lyrical EDM songs. In between all the various messages that are transmitted via song lyrics, I was somewhat surprised by one song in particular: 'I Took A Pill In Ibiza' by Mike Posner. I was doing some homework and playing music off of my iPad the first time I heard it.
At first I thought it was just another song about using drugs, but then I started to actually listen to it…and I was slightly shocked.
I reached over to see what the song's name was and who it was by, listened to the whole thing, and then I Googled about it. The lyrics start out like this:
"I took a pill in Ibiza, to show Avicii I was cool,
And when I finally got sober
Felt ten years older,
But f*** it, it was somethin' to do.
I'm livin' out in L.A.
I drive a sports car just to prove,
I'm a real big baller cause I made a million dollars
And I spend it on girls and shoes."

Sounds like a typical song of today, right? It mentions drug use, drops an f-bomb, talks about a famous location and luxurious living, and of course, implies sex. It was the next set of lyrics that caught my attention.
"But you don't wanna be high like me,
Never really knowing why like me,
You don't ever wanna step off that roller coaster and be all alone.
You don't wanna ride the bus like this,
Never knowing who to trust like this,
You don't wanna be stuck up on that stage singin',
Stuck up on that stage singing.
All I know are sad songs, sad songs,
Darling… all I know are sad songs, sad songs."

Considering the fact that this song was written from a true experience of the artist himself, I think it it safe to assume that this is a genuine warning from him as well. The song continues with him talking about his experience with his career in music, his warped relationships (or lack thereof,) with girls, and what it is like to go back to his hometown. (Read the rest of the lyrics HERE.)
While the artist doesn't explicitly advocate against drugs (in fact, he admits to using psychotropic drugs, AKA shrooms,) I think the message of the song is haunting enough in and of itself. It depicts a pretty clear picture of the darker side of a life of fame, one that is so desired in today's culture, in a very honest way. For a 'secular' song, I think the implied message is a very good, and a very important one, to put out there. I hope this song's popularity continues to grow, and I hope that others, also, grasp the true meaning of this song.
~Alexis Grace
One Response to "'I Took A Pill In Ibiza' – Music And Drugs"
I would love for you to share your thoughts.