This post is the second out of three in a series I call, 'Come Holy Spirit!' The title reflects my personal experiences from this past July, which focuses on receiving my Sacrament of Confirmation, and also my experience at CatholicTV as a co-host providing live television coverage of World Youth Day 2013 in Rio de Janeiro, Brazil.  I have 2 hopeful purposes for sharing this piece of my life with you. 
 To express how much it meant to me, to celebrate the beautiful Sacrament of Confirmation, in the hope that those of you who are preparing to make your own Confirmation will appreciate it as much as I do, and understand why it's such a big step in your journey as a young Catholic!
To show you that with the help of the Holy Spirit, you can do anything!!!
To read Part 1, click HERE.
I hope you enjoy this personal witness series!
~~~~~~~~~~~~~~~~~~~~~~~~~~~~~~~~~~~~~~~~~~~~~~~~~~~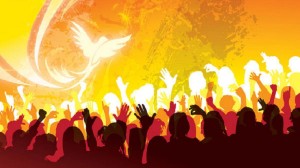 ANDDDD THEN…it was morning. I woke up. I blinked a couple of times. "Oh my LORSH…today is the day that the Lord has MADE. FOR ME." 
I kid you not, that was my first thought. Just like that. My big day was here, and I was both extremely excited and downright nervous. I don't remember much about that morning, except for practicing my reading. I realized that I never practiced using the podium's microphone like I was advised to. Oh well…how hard can it be? I finished getting ready for church, and then it was time to leave. 
Now, here is where I have to back-track a little.
First, I chose the name 'Clair' after St. Clair of Assisi as my Confirmation name, because Clair means 'light' or 'clear'. She also happens to be the patron saint of television, (which I would be on in a few days!) and I later found out she is also the patron saint of gilders. A gilder is someone who puts gold leaf on things like weather vanes, the crosses on church steeples, and other things like that; something my Dad does as part of his job. I usually help him if I can. That makes me a gilder, too.
 Secondly, my sponsor was Fr. Reed. He, (among others, like my parents and a small handful of others,) had been instrumental in those six years, and I know he will continue to be. For that reason, I asked him to be my sponsor. As we were sitting in the pew, we made our game plan. There was half an hour left until the Mass started. We had enough time to take pictures, so we did that rather than wait until after, when it would be crazy outside.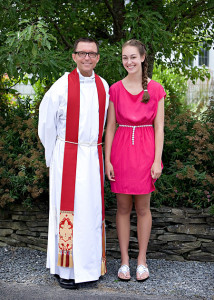 Once back inside, the Bishop gave a quick little talk to all the candidates, introducing himself and expressing his excitement for us. He mentioned that if whenever we were nervous (sad, anxious, angry, scared, etc.,) we could pray, "Come, Holy Spirit." Since I was growing more nervous by the second, sitting in that pew, I heeded his advice. (It worked. Just in case you were wondering.) Soon after the Bishop finished, Fr. Reed went into the sacristy to prepare for the Mass, which he was going to concelebrate.  
Once the Mass started, I tried to soak up every little detail of what was going on, so I could remember it all. After all, I had waited so long for this day, and I didn't want to forget anything. And that Second Reading? Well, after a few "Come Holy Spirit's" that I mumbled on my way up the aisle, I managed to read it flawlessly. Thank you Jesus!!! The Director of Religious Education at my parish selected the reading specifically for me to give, and I thought it was a great choice.
"There are many gifts but the same Spirit; There are different ministries but the same Lord; There are different works but the same God who accomplishes all of them in everyone. To each person the manifestation of the Spirit is given for the common good. To one the Spirit gives wisdom in discourse, to another the power to express knowledge. Through Spirit one receives faith; By the same Spirit another is given the gift of healing, and still another miraculous powers. Prophesy is given to one, to another power to distinguish one spirit from another. One receives the gift of tongues, another that of interpreting the tongues. But it is one and the same Spirit who produces all of these gifts, distributing them to each as He wills."
Contemplate that! (It's from the First Letter of Paul to the Corinthians.)  
The Bishop's homily was wonderful, and discussed the 7 Gifts of the Holy Spirit, and how they are like tools for a Catholic to pull out of their toolbox and use in life; tools that would empower us. When his homily was finished, it was time to FINALLY be Confirmed.
Those six years flashed before my eyes again as I watched my fellow candidates and my friends be Confirmed, and waited for my turn. I remember turning to Fr. Reed with the biggest grin on my face, just before we approached the Bishop.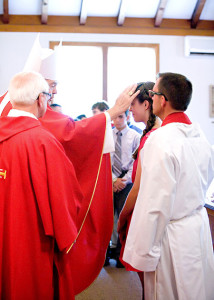 And then it happened: "Clair, be sealed with the Gifts of the Holy Spirit." "Amen!" I responded. "Peace be with you Clair." "And with your Spirit." I responded.
There. I was Confirmed, and bound to the Catholic Church that I loved so much, forever.
Once back in our pew, I whispered something like, "I can't believe it! I'm Confirmed!" to Fr. Reed, to which he replied, "Come, Holy Spirit!" with a grin so big, that I couldn't help the smile that spread across my face too. I had received wisdom, understanding, counsel, knowledge, fortitude, piety, and fear of the Lord in their most complete forms.
The rest of the Mass went by too quickly for my liking. I guess time really does fly when you're having fun. After the Mass, I had my picture taken with my Pastor and the Bishop, as well as my parents.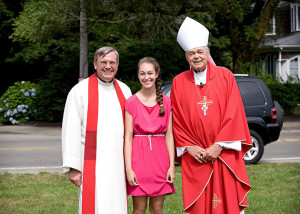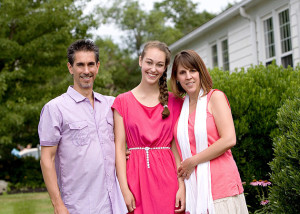 Then, my family, Fr. Reed, and I went to the Olive Garden to celebrate. (I got extra Andes Candies too!)  
I had a wonderful day, that was even more amazing then I had hoped for. I feel so blessed that I got to celebrate my big day in such a way that would allow me to focus on what it was really all about. So many people who are important in my life were able to be at that Mass, such as my family, Fr. Reed, my pastor, friends who were also receiving this important Sacrament, and friends who altar served at that Mass. There where many other people who are important in my life, who weren't there, but kept me in their prayers, something I will always be grateful for.
Now that I was fully equipped with all of these tools, I was ready for the rest of the week, which I can't wait to share with you!
To be continued… 
I would love for you to share your thoughts.