*****This was actually something I posted on on my personal FaceBook and Instagram, but the more I thought about it, I decided it would be a nice little blog post too. So for those of you who didn't catch it, I hope you enjoy reading my little pep talk!*****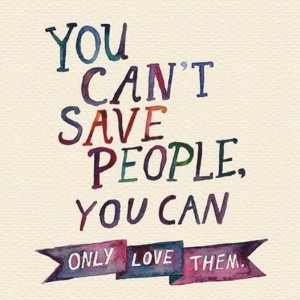 I think one of the biggest lessons 2015 taught me, is that you can't save people, you can only love them.
2015 started with me finding out that one of my teammates had run away from home. I begged him to come home, but I quickly realized that no matter how many times I called his dead phone, or texted him, or sent him FaceBook messages, he wasn't going to change his mind. All I could do, was pray. Things have worked out alright for him, I've heard, and for that I am glad.

That was just the first of a few instances this past year, where I think 
God was trying to show me that I couldn't save people. Only they can help themselves. I could pray for them. I could be a good example to them. I could encourage them to change their ways. And I could love them.
He knows better than anyone, that I'm good at loving others.

He gave me hands so I could hold the hands of others, and arms to wrap around them. He gave me ears to listen, and a heart to feel their pain. He gave me a tongue to speak the words they need to hear, or sometimes to say nothing at all. Facts though: I'm not the only one.

We were all given these gifts, to share with everyone we meet in this journey we call life.
Saving others is impossible. Loving them, is both a blessing and a curse. A blessing because we are not meant to be solitary creatures, we were made for companionship. A curse, because we often cross oceans for people who wouldn't even jump a puddle for us. A person who would leave us all alone , and broken.
So be careful who you fall for, both romantically and platonically. Stay true to yourself, sweet soul. Don't compromise the unique qualities, that make you who you are; find someone who falls for your roots, not just your flowers. Don't lose yourself; if you do, you'll find yourself feeling lonely while surrounded by people who only know of the reputation you built for yourself, instead of your true character. Don't forget how to love yourself; because to hate yourself is a terrible tragedy when you were made to shine for the world to see, a beautiful blend of potential, creativity, and grace. Don't let others abuse your love; if you don't take a stand for yourself, no one else will. Because if you stop to think, you'll realize that there is only one person you can save.

That one person, can be your own worst enemy:

Yourself.

Hello, 2016. I'm ready.
2 Responses to "You Can't Save People"
I would love for you to share your thoughts.