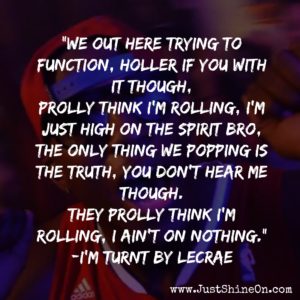 In my last post, I talked about Mike Posner's song 'I Took A Pill In Ibiza' and why I think it's a good song. While it does seem to warn against drugs, the message could always be a little more explicit. While my friends can attest to the fact that I always turn up that song when it comes on the radio, it's not my favorite anti-drug song. That honor goes to Lecrae's song "I'm Turnt", which I will regularly start rapping at random times.
Not only are the lyrics super clear in their disdain for drug use, but Lecrae has a pretty awesome music video for this song that makes the message even more clear. The best part?
"My blood stream clean, nothing running through my veins
It's 116, yeah I'm still Unashamed!"
He even makes a reference to Romans 1:16.
While I am so very glad that Lecrae is using his foothold in the hip-hop world to promote messages like this, I hope that more artists, Christian and secular alike, follow his example. I know that in my hometown, and all over the country, the use of heroin is on the rise, and so are overdoses. Addiction to drugs, whether hard or soft, is becoming even more of a problem than it has been in the past. We need more role models who aren't afraid to promote anti-drug messages, who aren't afraid of speaking the truth, even if it means they might lose a following. We need artists who are more concerned with the well-being of people, than concerned with making money. Lecrae is definitely one of those artists and role models.
Check out his song "I'm Turnt" below!
I would love for you to share your thoughts.