Something about the gray day and the dark beauty has me brooding over nothing. As I wander around campus, the silence is comforting but there's only one place I want be.
I make my way to the other side of campus and run across the street to the one building that I can hide from the world in. As soon as my foot hits the first step leading up to the doors, a sense of calm overtakes me. I tiptoe up the remaining steps and brace myself to pull open the heavy wooden door. It opens noiselessly with my efforts, and closes behind me just as quietly. I release a sigh of relief, and walk over to the Holy Water font, slowly dipping my fingers in and blessing myself. I open the second set of doors and slip into the main part of the chapel, sweeping my eyes over the pews and observing that I'm the only one there.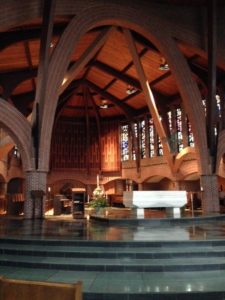 I make my way over to the tabernacle, genuflecting before it, and then kneeling. I spend some time praying about the things that are weighing on my heart, before sitting back for some quiet reflective time. The chapel is absolutely silent, and I'm alone with my thoughts, trying desperately to find answers to my questions. But I'm getting nothing. So finally I just stare at the tabernacle, with a blank mind.
I don't know how long I was sitting there before something in the air changed. It was undeniable. I went from thinking and feeling nothing, to being very aware of a Presence; one that was completely silent, but had the force of a hurricane….and I was in the eye of this storm of Love.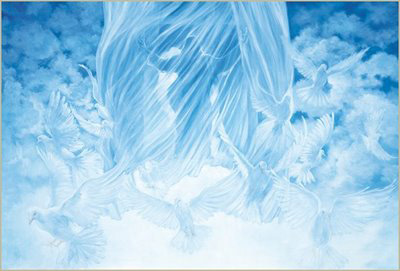 I may not have gotten the answers I was looking for, but I could feel the incredible power of my Lord.
He was asking me to be still and know that He was God.
It was a call I heeded, and I didn't regret it…because that's when silence speaks.
~Alexis Grace
4 Responses to "When Silence Speaks"
I would love for you to share your thoughts.