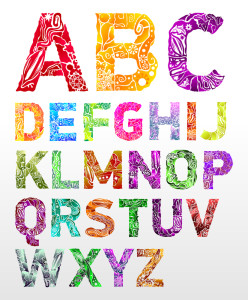 Sometimes we have days when we just need to stop and think about everything that God blesses us with everyday. He has, and continues to bless us, so shouldn't we take time to stop and thank Him? In a second, our whole life can change. Think about this:
"What if you woke up today with only the things you thanked God for yesterday?"

Kind of scary, right? My point is, sometimes we need to stop asking God for things, and start thanking Him for everything He has already given us.
Thanking God from A to Z, starting now in this list!

A- Air: Because a girl has to breathe! I'm thankful for all necessities in life.
B- Basketball & my Bed: Basketball is my favorite sport to play.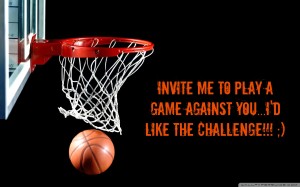 As for my bed…well, it's comfy and I like to sleep.
C- (My) Churches: I am so grateful for my two churches, and the parishes within them. <3
D- Ducks: Ducks just make me happy. I want one for a pet. 🙂
E- Existence: Not just my existence, but the existence of everyone and everything around me. (Except mosquitoes. And house centipedes.) 
F- Family, Friends, and Food: My family and friends mean the world to me. I'm glad food is a necessity, and I'm thankful I always have some, because I get hungry and I *really* enjoy it.
G- Goldfinches: Yes, goldfinches. These little winged balls of sunshine are just too cute, and always brighten my day. 🙂
H- Hugs & Hope: I love giving and receiving good hugs, and hope is God's fuel for the soul.
I- Ice cream & my iPod: Who isn't thankful for ice cream?! I also appreciate my iPod- music, camera, social networking, and fun for your fingers. 🙂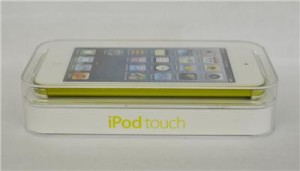 J- Jesus Christ: This one is pretty important. Without Jesus, I wouldn't have the gift of Salvation offered to me. Without Salvation, I'd be dooooomed.
K- Kick-offs…of Patriots games! I pretty much stalk the Patriots, and I love watching games. 
L- LifeTeen: My LifeTeen group is the best, and I am so grateful to know them. <3
M- Music & Memes: When I am writing blogposts, I also get my groove with some Jesus-Music. When I need a good laugh, memes usually do the trick. (I appreciate clean ones the most. Otherwise, I have to edit them before I can share them with little eyes.)
N- Notebooks: This one is kind of weird, but I am grateful for notebooks, because they give a place to write my thoughts in. I use them everyday. They also seem symbolic of new beginnings with each fresh page.
O- Optimism, & the Color Orange: I like yellow too. (Oh wait, that starts with 'Y'…never mind.) I love being around optimistic people. It's contagious! Orange happens to be my favorite color, because it's fun, bold, and happy. 
P- Priests: I am blessed to have a few priests in my life, who have all guided me in my journey of faith. Through their own, distinct styles, they have all helped me in different ways. As men living out their vocations in such a beautiful and powerful way, they are a huge inspiration to me, and I respect the priesthood so much. I am very grateful for them! <3 #HurrahForPriests
Q- Quiet Moments: They really give me time to think about things, and I enjoy any quiet time I can get. You especially appreciate it when there are 6 people in your family!!!
R- Reading Materials: Reading is such a great way to explore and learn new things! Books, newspapers, articles, magazines…all provide a wealth of information and/or entertainment. 
S- Sneakers: This is a quirk of mine. Sneakers are my preferred footwear. Converse and basketball sneakers in loud colors are just plain awesome.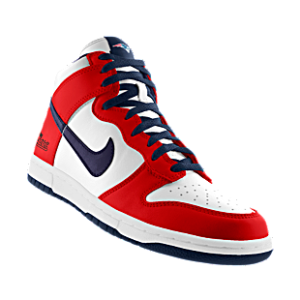 (Here is a pair I designed, using Nike ID. It even has a Patriots logo on it!)
T- Technology: It's so useful, when used properly. 
U- Underdogs: I am thankful for underdogs because they are a source of inspiration. If they fail, it shows that they were not afraid to reach high. If they succeed, then they are all the more admirable. I think we all feel like underdogs in certain areas of our lives, and I am no exception. Underdogs like Tim Tebow(!) inspire me, not just as an athlete, but as a person.
V- Vocations: I am not talking about just religious vocations. (Although, I do have a huge amount of respect for them. See above for 'P'. ) I am grateful for vocations because they are God's special calling that He hand-picked for each and every one of us, whether we know our vocation or not yet.
W- Worship (& Praise!): I absolutely love to worship and praise God, whether through prayer, Mass, or music. It makes me feel so happy and grateful for all He has done for us.
X- Xylem: I know, this is bad. But after wracking my brain for a half hour, I finally decided to look in the dictionary, and there was literally only 19 things listed. So I picked xylem. 
Y- YOU!!!: I am so grateful for YOU, as a follower of this blog! Thanks so much for your support- I am truly thankful for it. 🙂
Z- Um…this is another tricky one. Whatever it is, it's not zucchini!!!! Because you will not catch me thanking the Lord for zucchini! XP
What are you thankful for? Feel free to share your list in the comments below.
It can be as short or as long as you want, and if you're feeling creative, maybe you can try thanking God from A to Z too! If I'm impressed, I may post your list on Just Shine On's Facebook page!
~Alexis Grace
4 Responses to "Thanking God (From A to Z!)"
I would love for you to share your thoughts.