*****Prelude Note: This is a fictional short story I wrote, inspired by a still photo I had seen of a name tag. When searching for an appropriate video to accompany my short written piece, I was blown away to find this song/video that is SO perfectly fitting.  It's as if they were somehow made for each other. I don't even know what to think of the that. But I do hope you enjoy both.*****
Name Tags
by Alexis Grace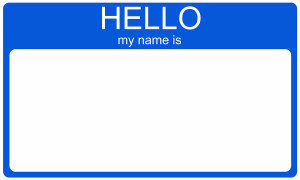 I stuck my name tag on my shirt.
It had an orange border -my favorite color- and read "Hello, my name is Alexis." I took a survey of the room full of people, but didn't recognize one single face. Taking a deep breath, I walked up to a small group of people, and introduced myself. I listened to their chatter for a few minutes, but said little. Apparently, they all knew each other from school, so I couldn't relate to their conversations. I excused myself, and went in search of a drink.
That's when I saw Him. He was standing in the far corner of the room, alone. His hair was shoulder length, He wore a white robe, and on His feet were a pair of ancient sandals. As if it wasn't obvious enough, He too, wore a name tag. It read, "Hello, my name is Jesus." He was looking right at me. His eyes…they reflected love, love that was so unearthly, so filled with compassion…His eyes were beyond beautiful, and I was completely entranced.
Instinctively, I began to run towards Him in a happy daze.
After only a few steps though, I hesitated. Then I backed up. I soon felt a wall behind me. I dropped my eyes, staring at the carpet covering the floor. Shame, guilt, and sorrow began to overwhelm me. Every moment in my life where I had been defeated by my human weakness flashed before my eyes. I was not worthy to even see Him, never mind go near Him. I was a sinner. "Lord," I prayed, "I am not worthy to stand in Your presence…" my words trailed off, and I met His steady gaze. He stood with His feet together, and stretched out His arms, as if to remind me of His Crucifixion. I heard His voice echoing in my mind, though His mouth never moved. "I was crucified for you. I died for you. I loved you, and continue to do so. You are my child, and I am your King. I AM."
He pointed to His name tag.
I was surprised to see that somehow, it had changed! Instead of His name, it read "Redeemer". He then gestured to my tag. I looked down, and read, "Hello, my name is Redeemed". The happy daze returned. This time, I didn't hesitate. I ran straight into His open arms: My Lord, and my Redeemer.
♫  LISTEN/WATCH: 'Hello, My Name Is' by Matthew West 

BY THE WAY…You can be a redeemer too…
OF A $25 iTUNES GIFT CARD!!!!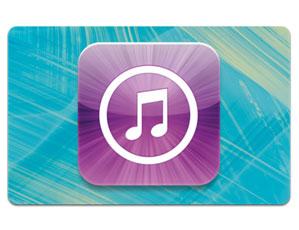 You can enter into this giveaway up to 3 times, in the following ways:
*Please follow instructions carefully!*
For 1 entry: Leave a comment below, sharing your thoughts about this short story

For 1 entry: LIKE my FaceBook Page
For 1 entry: FOLLOW me on Twitter

*For each qualified entry, you must use the big rectangle widget below, to be in the drawing for the giveaway! In other words, after you A) leave a comment, you must then B) click on the bar in the widget that says "Leave a Blog Post Comment", and when it drops down, then C) click on the big green button that says "I Commented" with the check mark.The same goes for A) following Just Shine On on Facebook or Twitter.  Whether you just did follow, or you have been following, you must then B) click on the appropriate bar and then C) the green button in the widget, to officially be entered in the drawing.>>>>>>If you don't use the widget to record your qualified entries, you won't be in the drawing for your good chance at winning<<<<<

If you have already Liked my page and followed me on Twitter, then great! To get your third entry, you just need to leave a comment!
*A winner will be chosen at random and announced on 'Just Shine On' on August 17, 2013.*
**Participants in this giveaway should be at least 13 years of age, but no older than 25 years of age. (I really do love and appreciate all my adult followers, but this blog is primarily for teens/young adults. Sorry. 🙁 )  Be sure to tell your friends, and good luck!

8 Responses to "Name Tags, and My First Giveaway"
I would love for you to share your thoughts.