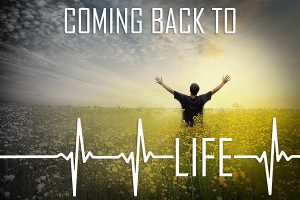 "You knew, but I did not, what the outcome would be. But my madness with myself was part of the process of recovering health, and in the agony of death I was coming to life. I was aware how ill I was, unaware how well I was soon to be."
~St. Augustine
Sometimes when we are going through a tough time, it's really easy to let the feeling consume us. We convince ourselves that we were so much happier before and that we will never be the same person again. We unknowingly wreak havoc upon ourselves mentally and emotionally, and sometimes it affects us physically too. We feel crazy, we are told to get over it, and we want to get over it so badly but we just aren't ready to heal yet. The wound still gapes even when we find our smile and let ourselves laugh.
When we are going through times like that, we need to remember that it's probably for the best. God has a plan and we will reap the benefits of this plan if we let Him do His work in our life.
A couple years ago I experienced my first massive betrayal.
Someone who at the time was really important to me, left because (long story short) they decided I was no longer important to them. And they basically said as much to my face. I was crushed even though people told me that person didn't deserve me anyway. I was out of my mind if I thought they were good for me.
I couldn't see how anything good could come out that situation. I lost my life rhythm for a little bit before finally pulling myself out of that dark place. I realized that by kicking me out of their life, they were the one experiencing the bigger loss, whether they knew it or not. But I lost nothing. They were manipulative, mentally and emotionally abusive, and they did not respect me or my values.
This quote by St. Augustine always makes me reflect on that situation. God knew, but I did not, what the outcome would be. He knew this person was not good for me and that I would eventually realize it and be fine. My madness with myself, the pain that I went through as I struggled to wrap my brain around the absence of this person, would lead me to a realization of my worth and recovery of a healthy mindset.
After the agony of that time in my life, I came to life. I discovered new passions, pursued them, and I spent more time in faith formation. But during that whole experience, I was only aware of how I was feeling in that moment, and I was unaware that life would be so much better, than even before, when I was ready to experience it.
And so the cycle repeats itself.
That quote by St. Augustine makes it easier to put things into perspective and bounce back from every "major event" that is really only a small blip in my life. I hope this quote will serve the same purpose for you too.
~Alexis Grace
Save
Save
Save
Save
Save
Save
One Response to "The Confessions: I Was Coming To Life"
I would love for you to share your thoughts.