Being brave is an honorable character trait.
But I think we tend to forget that often times 'bravery' is also very closely intertwined with another honorable character trait: honesty.
I've been reflecting on this for a few months now, but it recently became very clear to me. In this light, before you can truly be brave…you have to be honest. For example, how many times have we had to tell someone, (like our parents!) the truth about something we really didn't want to, because we knew it would get us in trouble? Probably more than we can count.
But as Christians, we are not only called to be honest with each other…we are called to be honest with ourselves, too. And if we are really being honest here, (haha, no pun intended,) sometimes that is the scarier of the two scenarios. Why? Because we have to face ourselves. We have to acknowledge things that are just hard to admit. Maybe we are afraid it might make us look weak, or foolish, or cast some other negative shadow upon us.

I know that for me, I need to work on being more open with myself, as well as with others.
It's easy to think about things that bring you happiness and smiles. But it's harder to think about things that make you feel vulnerable. And I hate feeling vulnerable. I'm learning though, how to be honest with myself and confront my fears. I'm learning to be brave.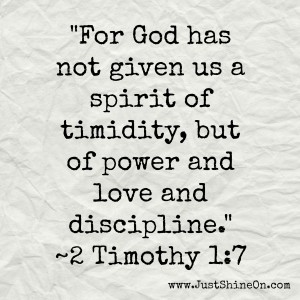 So that's what I need to work on. But what do YOU need to be brave about? Be honest with yourself. Is it forgiveness? Gratitude? A troubled relationship with someone? An eating disorder? An addiction? Think about it really hard.
When you've figured it out, I encourage you to do these things:
1. Pray.
2. Talk yourself through it.
3. Pray.
4. Write about it. Whether it's in a journal that you want to keep, or on a piece of loose-leaf paper so you can burn it later.
5. Pray.
6. Confront the problem(s).
7. Pray.
8. Overcome. (Philippians 4:13, people.)
So I challenge you, to be brave.
It won't be easy.
Facing yourself never is. But it will help you grow as a person. You will be more honest with yourself, and others. You will grow closer to God, and others. But perhaps most importantly:
You will overcome.
You will be brave.
~Alexis
3 Responses to "Be Brave"
I would love for you to share your thoughts.