Lately, some Twitter content has been a real eye-opener for me. There are so many lies that society tells teens, and the biggest one seems to be the kind of body image that supposedly is the picture of perfection. It also seems to have the worst outcome.

Let me give you just one example of the 'Perfection Lie'….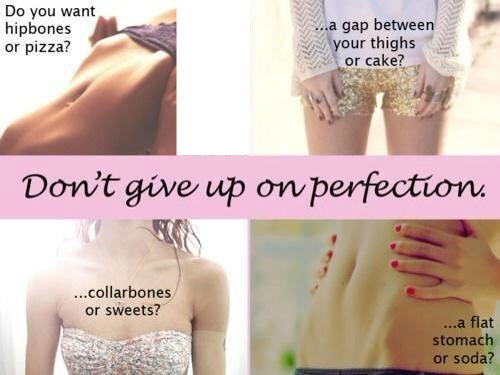 This picture has been making the rounds on Twitter for a while now. In fact, you may have already seen it. The first time I saw it, I didn't really pay much attention to the pictures…I was reading the questions. My answers were: Pizza, cake, sweets, and Nestea Ice Tea. But then when I actually looked at each picture, I was appalled. This is what girls my age strive to look like? For what?  I am sincerely hoping your answers (in this case,) are: Pizza, cake, sweets, and your choice of soda. 
Did you know, that if you have a thigh gap that wasn't naturally there in the first place, you are malnutritioned?
It's true. It means that the muscle that normally occupies that space has wasted away. The same is true for the hipbones, collarbones, and flat stomach. This isn't perfection; it's anorexia. It's self harm. And when someone can't achieve this false image of what beauty is, they often become depressed, some start cutting, abuse alcohol/drugs, and may even commit suicide. All of these tears, heartbreak and sometimes tragedies, because they tried to become a picture of false perfection, that was pressured upon them by society. Society being not only peers who are also being misled, but the vast media and advertising that promote it.

But I know that society isn't the only reason why girls are going to such extreme measures to try and obtain this image of themselves. Soooo…. 

Dear Guys, how do you feel when look at the above pictures? Do you think, 'I want a girl like that,' or do you feel sick inside, knowing that girls think this is what you want, and that they are destroying themselves in the process? If the first thought is what enters your mind, please, reconsider your view of girls. That is NOT what they should look like, and they deserve more respect than that. If your view is the latter thought, I want to say a really big THANK YOU for your gentlemanly attitude! You have a lot of the power to help make a difference with this epidemic among young girls today. They are your sisters, friends, girlfriends, etc.  Make sure you let the girls in your life know that that kind of 'perfection' is not the same as your definition of perfection. Show them and tell them they are loved and beautiful as God created them to naturally be. If you accept girls as they are, it will make them feel a whole lot better about themselves, and it can help begin to break this heartbreaking message they seem to be getting.
Sincerely, Me
 *Ahem*
Anyway, I can't believe how many girls with a normal weight think that they are 'fat'. If your doctor isn't concerned about your weight, you shouldn't be either. And if they are concerned about your weight, take my advice: Do your best to get back on track, whether it's gaining or losing weight; but make sure you do it in a healthy way.

The most important thing to remember though, in either situation, is to not let your weight define you. Take care of yourself, but don't obsess over it. Don't strive for 'perfection' when you already possess it.  The Bible reminds us to respect ourselves and our body, and take care of it in the following verses, as well as follow His standards instead of the world's: 
"Do you not know that your body is a temple of the Holy Spirit within you, which you have from God, and that you are not your own? For you were bought with a price; therefore glorify God in your body." -Corinthians 6:19-20  

"Do not be conformed to this world,but be transformed by the renewing of your minds, so that you may discern what is the will of God—what is good and acceptable and perfect." -Romans 12:2

"…like living stones, let yourselves be built into a spiritual house…" -1 Peter 2:5 
I'm going to close with this bit of food for thought: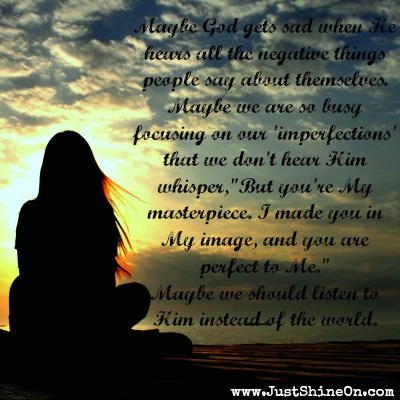 ~Alexis Grace
8 Responses to "Perfection"
I would love for you to share your thoughts.