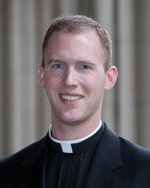 Father Mark Murphy
+
I am happy to present to you, the very first interview for my Witness series here on Just Shine On!
Father Mark and I first met each other through a slightly embarrassing (for me, anyway) Confessional experience, that happened at a God of This City tour in Marshfield. He swears he doesn't remember a thing. (God bless him.) In a nutshell, I entered the wrong door, in a 2-door confessional, of which I had not previously been familiar with, and found myself in his presence in a very small, confined space. He kindly directed me next door. ; )
Several months later, my family and I happened to be at a gathering, where he was present as well. After exchanging a few glances and wondering how we knew each other, he approached us to introduce himself. We spent about 20 minutes trying to figure it out, and when we did, it made so much sense. My family and I very much enjoyed our chat with Father Mark that day, as he is very charismatic, cheery, warm-spirited, funny, and humble.
Since then, he and I have connected via FaceBook and Twitter so we could keep in touch. I asked him to do an interview for Just Shine On, and what a blessing for us; he enthusiastically agreed.
So, here it is! I hope you enjoy reading all he so willingly shared with us from his heart, and find his living as a Witness for Christ, as inspiring and encouraging, as I have.
 ++++
Q1.) Introduce yourself! What is your name?
A1.) My name is Father Mark Murphy. I was ordained a priest of Jesus Christ for the Archdiocese of Boston by Cardinal Seán P. O'Malley on May 21, 2011. I grew up in Burlington, Massachusetts (St. Malachy Parish) and I have 2 older brothers. My brother Ray is a dentist and my brother Matt is a police detective. I also have 3 nieces and 2 nephews.

~~~
Q2.) How old are you?
A2.) I am 28 years old.

~~~
Q3.) What parish(es) or ministries do you belong to?
A3.) I am assigned to St. Agatha Parish in Milton/Quincy.

~~~
Q4.) What is your position? (PV, Pastor, weekend assistant, etc.)
A4.) I am the Parochial Vicar at St. Agatha's.

~~~
Q5.) Who is your favorite saint? What do you admire most about them?
A5.) My favorite saint is St. Padre Pio. Ever since I was a boy I always felt drawn to Padre Pio and I was very intrigued by his austere way of life and his outstanding holiness. I most admire the way in which Padre Pio lived out his priestly vocation, because even in the midst of sufferings, rejections and struggles he was always faithful to Christ and His Church.

~~~
Q6.) How did you know you wanted to be a priest? Was it through a special experience, or maybe just a feeling of being called? Please share with us!
A6.) I first heard the call to the priesthood when I was a sophomore in high school. On the day of my Confirmation the Bishop asked the young men to consider becoming a priest. I remember the Bishop saying that if this is your calling you will be most happy in life serving the Lord as a priest. Right after he said this I knew in the depths of my being that God was speaking through him directly to me. From that moment until my senior year in high school my thoughts about becoming a priest were growing stronger and stronger, so after much prayer and discernment I decided to enter the seminary directly after high school.

~~~
Q7.) How old were you at that time?
A7.) I was 16 years old when I first thought about becoming a priest.

~~~
Q8.) Where did you study as a seminarian?
A8.) I studied for 4 years in the seminary college at St. Charles Borromeo Seminary in Philadelphia and I studied theology at St. John's Seminary in Brighton for another 4 years.

~~~
Q9.) When were you ordained, and what thoughts were going through your head that day?
A9.) I was filled with joy and excitement the day that I was ordained a priest. I had trouble sleeping the night before, not because I was nervous, but because I couldn't wait to become a priest of Jesus Christ! I also remember being a bit emotional, because when walking down the aisle at the Cathedral I started to cry when I first met eyes with my parents. When the Cardinal laid his hands on my head in the Rite of Ordination I was given a beautiful gift from God to have a vision or image of my entire journey to the priesthood, from when I was a child until that very moment. It was a remarkable grace!

~~~
Q10.) What is your favorite part about the priesthood, and why?
A10.) My favorite part of being a priest is celebrating Mass. To stand in the person of Christ and to make Him present in the Holy Eucharist is incredibly humbling. In addition to celebrating Mass with and for God's holy people I also enjoy working with young people, from the many children in our Parish school, to the kids in our Parish faith formation program, to our youth and young adults in high school and college. Helping young people to encounter Christ is something I am always trying to do, because this encounter is what will fill their souls with the joy and happiness they are seeking.

~~~
Q11.) What is your favorite part about the Catholic faith? 
A11.) I love Church history. The history of the Catholic Church provides us with so many beautiful examples and signs of God's loving providence down through the ages, from the life of Christ culminating in His Paschal Mystery, to the lives of the saints, to the 21 Ecumenical Councils of the Church. The history of the Catholic faith shows the many ways in which the Church has faithfully articulated and handed on the deposit of faith through every century. I have a particular interest in early Church history and I enjoy studying the writings of the Fathers of the Church. This is called Patristics.

~~~
Q12.) What would you say to a young person who is questioning their Catholic faith?
A12.) I would reassure and encourage a young person who may be questioning the Catholic faith by telling him or her that questioning things is normal. God has given us the gift of an intellect and critical thinking can be very good and useful. I would be careful not to argue with or debate the person, because faith cannot be forced on someone. I would do my best to listen and try to discern what specifically they are struggling with. After listening, I would then try to help them understand why we believe what we believe. At the end of the conversation I would say the most important thing: that he or she will be in my prayers!

~~~
Q13.) How important do you believe Bible study is for youth? How do you recommend going about studying the Bible? 
A13.) Studying the Bible is very important for all people, especially the youth! It's important to remember that the Bible is the living Word of God and it can speak to us as powerfully as it spoke to God's people when it was first written thousands of years ago. The Bible is Revelation and is a primary way in which God reveals Himself to us through salvation history. The Bible teaches us many things about God that we could never have known through the natural light of our human reason alone. For example, that God is a Trinity of Persons (God is Father, Son and Holy Spirit) is something we never could have known on our own unless God revealed it to us. God reveals Himself to us through the Bible, and this shows forth God's great love for us and God's desire that we grow in friendship with Him, because we can't love what we don't know. I would recommend that a young person first read John's Gospel because it's a book of the Bible that's quite riveting while also being accessible and understandable to the reader. I would also recommend that a young person get a Youth Catholic Study Bible and even "The Bible for Dummies." These are great resources that will help you to understand the Bible a lot more!

~~~
Q14.) Do you believe we should use technology to spread the Gospel? How would you suggest doing so?
A14.) Pope Benedict XVI once said that we should use technology "to make known the love of God to the furthest ends of the earth." He's absolutely right! In a certain sense this is nothing new, because Jesus is the one who commissioned His disciples to "Go therefore and make disciples of all nations." (Matthew 28:19) All of us have a responsibility in our own time and place to help others come to encounter Jesus Christ. We can use technology and social media to spread the Gospel in so many ways. The Church in the United States is blessed to have CatholicTV and EWTN; in Boston we have Catholic Radio 1060AM, and many bishops and priests are making the Gospel known to others through Facebook, Twitter, blogs and websites. Even Pope Francis has Twitter! I also have a Twitter account (follow me @FatherMMurphy), I have Facebook where I often post pictures and stories of my ministry at St. Agatha's and I also have a blog where I post some of my homilies (fathermarkmurphy.blogspot.com). I would definitely encourage young people to use social media and technology to spread the faith.

~~~
Q15.) What is your message for young people today?
A15.) My message to young people today is that you need to trust that God will never be outdone in generosity. If you are generous with the gifts and graces God has given to you He will bless you in ways that you could never imagine. I would also challenge young people to realize that although you are young, the witness of your faith, hope and charity is an essential part of the New Evangelization. As Pope Francis said at World Youth Day in Brazil "The best instrument to evangelize young people is other young people." You can help to bring the life and light of Jesus Christ to your peers in ways that many older people can't. Put out into the deep and know in the depth of your soul that the only way to lasting happiness and joy is to do God's will and to strive to bring about His Kingdom on this earth. The light of your faith anchors the whole Church in hope!

~~~
Thank you Father Mark, for sharing your testimony with us!  May God bless you in your life's work and vocation. 🙂
~ Alexis Grace

P.S.- Like Father Mark's interview? Leave an affirmation for him in the comments!
6 Responses to "Father Mark Murphy"
I would love for you to share your thoughts.